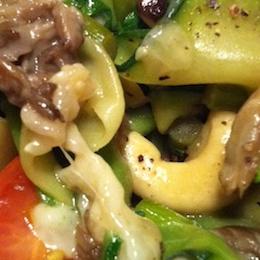 Use as a side dish or leave the cheese off and toss with pasta topped with shaved Tomme or Cave-aged Gouda. Great leftovers!
Preparation
2 lbs summer squash and/or zucchini (sliced or cubed according to your presentation preference)
1 to 2 cloves garlic, finely minced
1 onion sliced
Fresh basil chopped, to taste
Salt/pepper to taste
 
2 or 3 roma tomatoes peeled and cubed.  (you can also use a large tomato of a different variety but make sure to seed it as well)
 
Several slices of a local cheese that you love.
 
Heat 2 tablespoons of olive oil in a sauté pan until the oil is hot and shimmers.  Over a high heat add the zucchini/summer squash and cook until just slightly browned.  Reduce the temperature and add the onion and garlic.  Cook several minutes longer and add the basil and season with salt and pepper.  Reduce heat and cover, cook until fork tender.
 
In a separate pan, heat a tablespoon of olive oil and cook the tomatoes until most of the liquid has been released and evaporated.  When the squash mixture is tender, to taste, add the tomatoes and stir.  Cover the top with a few slices of cheese, return the lid and cook just long enough for the cheese to melt.