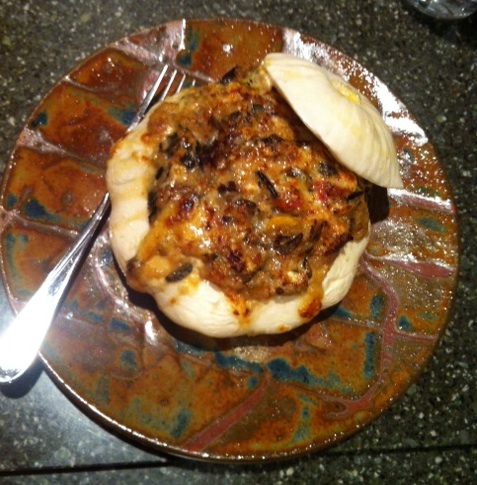 This recipe can be used with any kind of squash, either summer or winter, and the stuffing you use can be seasonal and varied as well. Be creative, and be brave–it'll be delicious!
The photo is a white patty pan squash from a few years ago. With some winter squash, the skin may be edible. The stuffing was a combination of leftovers for a few meals and fresh stuff added to it. So delicious, we can't wait to do it again.
Preparation
Ingredients
1 squash per 2 servings, or 1 smaller squash per person
1/2 to 1 cup stuffing per squash (see stuffing suggestions below)
1/4 c. grating cheese for top
Prepare squash based on variety. For a large zucchini, cut in half lengthwise and scoop out seeds for two boats. For a patty pan, cut off the top and scoop out the seeds for a single boat to stuff. Salt and pepper the insides and steam or microwave the squash until just about tender (I put a couple tablespoons of chicken broth in each one and microwaved for 8-10 minutes). Load with stuffing, top with cheese and place under broiler until browned and bubbly.
Stuffing suggestions for about four servings
2 c. cooked wheat berries, barley, quinoa, rice, wild rice or any combination of grains
1/2 to 1 c. cooked chicken, beef or other meat
1 c. sauteed peppers (hot and sweet combo), onions, garlic and mushrooms
1/4 – 1/3 c. fresh chevre or quark cheese
2 T. fresh chopped herbs
salt and pepper to taste