Strawberry Cornbread Pudding Cake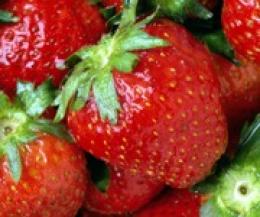 This would be a great way to showcase the frozen strawberries we got in from Double Star, as well as all the fantastic, organic flour and cornmeal from MckKaskle and Brian Severson Farms. Local IS better.
Preparation
1 cup yellow cornmeal
1/2 cup all-purpose flour
1/2 cup whole wheat flour
1 cup powdered sugar
1/2 teaspoon baking soda
1/2 teaspoon baking powder
1/2 teaspoon salt
3 large eggs
1 1/2 cups whole milk
1 tablespoon vanilla
6 tablespoons butter, melted
1 pint strawberries, hulled, rinsed, and quartered
Preheat oven to 350 degrees. Grease a 9 inch cake pan or spring-form pan.
Combine dry ingredients in a large bowl. In a small bowl beat the eggs with a whisk, add milk and vanilla until blended. Pour over cornmeal mixture along with melted butter. Stir a couple of times and add strawberries, mixing just until blended and ingredients are moist. Pour batter into prepared pan and bake for 50 minutes to 1 hour. If serving warm, spoon into individual bowls, top with whipping cream and sliced fresh strawberries. To serve in wedges, let cool before cutting.