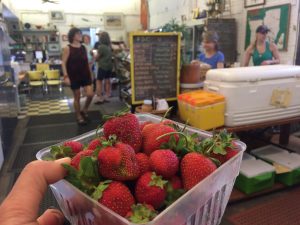 1 pint strawberries, hulled and rinsed
1/3 cup sugar
1/2 cup fresh lime juice
grated zest of 2 limes
4 large eggs
8 tablespoons Our Garden butter, melted
In a blender or food processor puree the strawberries, sugar, lime juice, lime zest, and eggs.  Pour mixture into a medium sized saucepan and whisk in cooled, melted butter. Cook on medium low heat stirring constantly until thickened, about 15-20 minutes. Cool to room temperature and store in air tight container in the refrigerator.