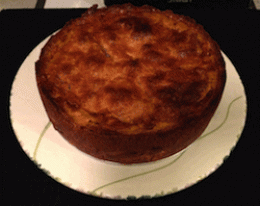 Applesauce makes for a moist and delicious cake. I would probably cut back a bit on the sugar in this recipe to make it a little less sweet–more like a quickbread, or even substitute a bit of maple syrup or honey for some of the sugar.
Preparation
1/2 c. walnuts, chopped (or Missouri pecans)
1/2 c. butter
2 c. sugar
2 eggs
2 1/2 c. sifted flour
1 1/2 tsp. baking soda
1 tsp. salt
1/2 tsp. nutmeg
1/2 tsp. allspice
1/2 tsp. cinnamon
1/2 c. applesauce
1/2 c. raisins
Preheat oven to 350 degrees. Cream together butter and sugar. Add eggs, beating until light. Sift together dry
ingredients; add to creamed mixture. Blend in applesauce, raisins and nuts. Turn into greased and floured 13 x 9 x 2
inch pan. Bake 45 minutes or until cake tests done. Cool in pan.