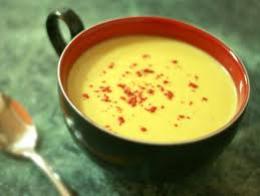 This curried soup is hearty, creamy and delicious. You can decrease the liquid to make it a nice, thick puree for a side dish or base for your meat, fish or greens. 
Preparation
Ingredients
2 tablespoons butter
1 medium onion, chopped
1 pound parsnips, peeled and cubed (can supplement w/carrots which makes it even more colorful)
1 clove garlic, finely chopped
2 teaspoons curry powder (feel free to use more but taste first)
3 1/2 cups chicken or vegetable broth
1/2 cup heavy cream or half & half (I used plain yogurt)
salt and pepper to taste
1 pinch red pepper flakes or paprika for garnish
Melt the butter in a large saucepan over medium heat. Fry the onion in butter until soft, about 5 minutes. Add the parsnips, garlic and curry powder, and fry for a couple of minutes to release the flavors. Add the broth and stir to remove any bits of vegetable from the bottom of the pot. Heat to boiling and simmer for 15 minutes or until parsnips are soft and easy to break with a wooden spoon.
Remove from the heat, and blend with a hand mixer or immersion blender. Stir in the cream or yogurt, and heat through. Do not boil. Season with salt and pepper to taste, and garnish with red pepper flakes or paprika.
Top with crispy broiled mushroom bits for a real treat.