Sauteed Eggplant, Okra and Peppers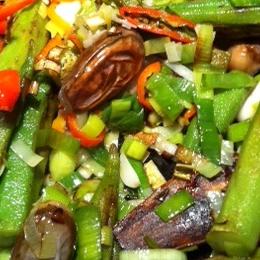 Someone told us that okra is only slimy once it's cut, so the secret should be to cook it whole. Eating it whole may present more of a challenge, but if you really have a problem with the texture of okra, you now know the solution.
Preparation
Ingredients
1 medium eggplant (~ .75 to 1 pound)
1 share okra (.75 lb.)
1 sweet bell, Corno de Toro or Carmen pepper, red, yellow or green
1-3 spicy peppers, to taste
1 onion chopped (or leeks or shallots)
6 cloves whole garlic, peeled, and smashed with the side of a chef knife
1/2 – 1 teaspoon sea salt (to taste)
2 T. olive oil
drizzle of white wine (or cooking wine)
drizzle of balsamic vinegar
1/2 – 1 t. teaspoon fresh herbs
Preparation
Cut tops of okra and cut eggplant and bell pepper into similar sized pieces. Cut hot peppers into smaller pieces, according to heat.
Heat olive oil in a large cast iron skillet over medium high heat. Add onion and sauté about a minute. Add okra, eggplant, peppers, garlic and salt. Saute and stir until everything begins to turn golden, 7-15 minutes. Deglaze with a splash of white wine and balsamic vinegar. When the wine and vinegar cook off, remove from heat, add herbs and serve. Delicious with chicken.