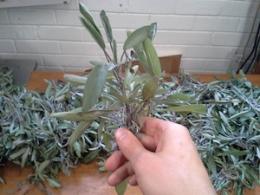 First, a note on Pesto:
Pesto means paste, and pesto can be made with just about anything that will become paste-like when processed with a bit of olive oil and garlic.
This pesto is prepared with sage and walnuts.
Preparation
2 cups fresh sage leaves, packed
1/2 cup freshly grated cave-aged Marcoot cheese
1/2 cup Kreta extra virgin olive oil
1/3 cup toasted Missouri pecans
3 medium sized garlic cloves, minced (or garlic scapes if in season)
Salt and freshly ground black pepper to taste

1. Place the garlic in the food processor and pulse a few times. Add the sage in with the nuts, pulse a few times in a food processor.
2. Slowly add the olive oil in a constant stream while the food processor is on. Stop to scrape down the sides of the food processor with a rubber spatula. Add the grated cheese and pulse again until blended. Add a pinch of salt and freshly ground black pepper to taste.
Makes 1 cup. Serve with pasta, as a topping for butternut squash soup, over roasted veggies, or spread over toasted baguette slices.