Fennel Frond and Garlic Scape Pesto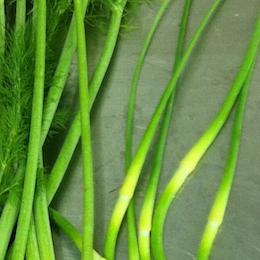 This is a quick and delicious pesto that whips up in the food processor lickity split. You could throw in some of those carrot tops, too!
Preparation
I used the fennel fronds from one share, but each farmer brings in their fennel a bit differently, so I've estimated one cup for this recipe, just use what you have and adjust the amounts accordingly.
1 c. fennel fronds
2-3 garlic scapes
1-2T. fresh lemon juice
handful pecans
1/2 – 1c. hard grating cheese (I like the Marcoot Tomme or Alpine)
olive oil to blend
salt and pepper to taste
In a food processor, pulse the fennel and garlic scapes with lemon juice until smooth. Add pecans and cheese, salt and pepper and turn processor on. Drizzle in olive oil until it begins to thin out. Adjust lemon juice, salt and pepper and olive oil to taste and desired consistency.
Serve with cucumber chips or crostini, or over pasta or cooked vegetables. Also good thinned with vinegar and a little honey for a vinaigrette.