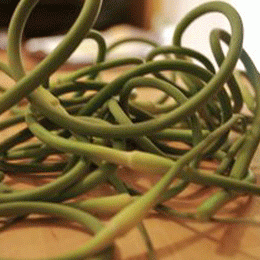 Binomial Name: Allium sativum L.  
When we found out the garlic scapes were ready, we were fairly giddy with excitement, what with garlic being our favorite vegetable and all. Garlic scapes are the above ground stalk and seed head of the hardneck garlic bulb. Scapes are often harvested about three weeks before the head of garlic reaches maturity. Removing the scape makes for a bigger garlic bulb.
Preparation
When removed from the bulb early, scapes remain tender. The entire stalk is edible, but the tip above the seed pod may be tough and need to be removed.
With a milder taste than garlic cloves, scapes can be eaten raw, chopped up in a salad. They are also delicious cooked in any dish where you would use garlic or green onions. Try them sautéed with scrambled eggs or cooked with fresh trout. They act as both a seasoning and a vegetable. Sauté them in a little butter or olive oil and serve as a side dish like green beans.
Try this awesome pesto. Sounds like dinner tonight with fresh Midwest pasta and some Ozark Forest shiitake mushrooms. Ooh la la.
Garlic Scape Pesto
Ingredients:
– 1 cup garlic scapes (about 8), tip above seed pod removed if not tender, cut into 1/4-inch slices
– 1/3 cup Missouri Pecan Growers' Pecans (or walnuts or pine nuts)
– 1/2 to 3/4 cup olive oil
– 1/4 to 1/2 cup grated parmigiano or Marcoot cave-aged gouda, heritage or tomme
– 1/2 teaspoon salt
– black pepper to taste
Place scapes and nuts in a food processor and whiz until well combined and somewhat smooth. Slowly drizzle in oil and process until integrated. With a rubber spatula, scoop pesto out of bowl and into a mixing bowl. Add cheese to taste; add salt and pepper. Keeps for up to one week in an air-tight container in the refrigerator. Freezes great, too. Try about 1/4c. of pesto to a pound of cooked pasta and stir until pasta is well coated.