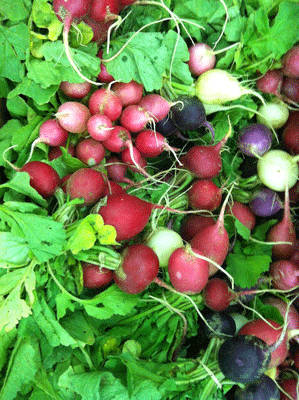 Don't just compost those radish and turnip greens! This recipe calls for a lot more greens than you are likely to get on your bunch, but you can add other greens to make up the quantity.
Preparation
Ingredients
2 tablespoons butter
1 large onion, diced
2 cloves garlic
2 large potatoes, sliced
4 cups raw radish greens
4 cups chicken broth
1/3 cup heavy cream or raw whole milk
5 radishes, sliced
Sprigs of parsley, sage, rosemary, and thyme
Dash of hot sauce (optional)
Melt butter in a large saucepan over medium heat. Stir in the onion and garlic and saute until tender. Mix in the potatoes and radish greens, coating them with the butter. Pour in chicken broth and herbs. Bring the mixture to a boil. Reduce heat, and simmer 30 minutes.
Allow the soup mixture to cool slightly, and transfer to a blender. Blend until smooth.
Return the mixture to the saucepan. Mix in the heavy cream or milk. Cook and stir until well blended. Serve with radish slices.
Serve hot or cold.