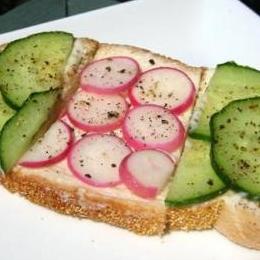 A good radish sandwich can be nothing more than sweet butter spread on bread and topped with sliced radishes and sea salt. But the different variations can take it from a simple lunch to an elegant hors d'oeuvres fit for a fancy party. Here are a couple ideas to get you started eating your new favorite sandwich.
Preparation
This first recipe is an easy way for getting the radishes and butter on the bread quickly (and getting them to stay on), especially if you're making radish sandwiches for a crowd:
Ingredients
6     radishes, breakfast radishes, or a mixture of red, purple, and pink radishes, tender greens attached    
4     Tbsp. unsalted butter
1     tsp. finely grated lemon zest
~     Salt
~     Baguette slices, for serving
Steps
• Wash and trim the radishes and their leaves. Thinly slice the radishes into rounds, then crosswise into narrow strips. Each should be tipped with color. Chop the leaves. You should have about ½ cup.
• Mix the butter with the lemon zest until it's soft, then stir in the chopped radishes, radish leaves, and a few pinches of sea salt. Spread on slices of crusty baguette and serve.
---
This second recipe at http://www.myrecipes.com/recipe/buttered-radish-tartines was sent by member Joanne McAndrews, and suggests a more flavorful butter mixture topped with sliced radishes. Try both recipes and let us know what you think on our Facebook group.
2 tablespoons unsalted butter, at room temperature, preferably a good French butter
1 tablespoon chopped black olives (such as niçoise)
2 teaspoons chopped fresh flat-leaf parsley
1/4 teaspoon chopped fresh thyme
Dash of crushed red pepper
16 (1/4-ounce) slices whole-grain French bread baguette
8 to 10 radishes, very thinly sliced
1/8 teaspoon fleur de sel or other coarse sea salt
Place butter, olives, parsley, thyme, and red pepper in a small bowl; mash with a spoon to combine. Spread butter mixture evenly over bread slices; top with radish slices. Sprinkle with sea salt. Serve immediately.