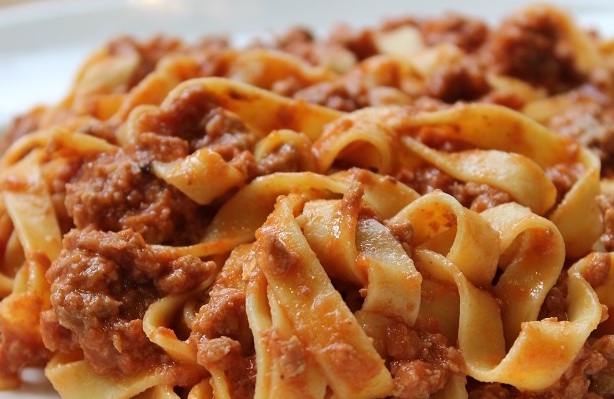 This is a quick and easy sauce that you can prepare on a weeknight, but it's good enough for a Sunday night dinner. It's adapted from Ina Garten's Weeknight Bolognese, substituting in all the wonderful Fair Shares goodies we could find.
Preparation
Ingredients
2 T. Kreta Reserve olive oil
1 lb. Raincrow Ranch ground beef or Meramec Bison
3 to 4 cloves minced garlic (about 1 1/2T)
1 T dried oregano (or about 3T. fresh if you have it)
1/4-1/2 t. crushed red pepper flakes, according to taste
1 1/4 c. dry red wine, divided
1 qt. jar Hilty tomatoes, chopped, with liquid
2 T. Ozark Forest Tomato Tapenade
Sea salt and freshly ground black pepper
1lb. fresh Midwest pasta
1/4 t. ground nutmeg (I sometimes omit this)
1/4 c. chopped fresh basil leaves, lightly packed
1/4 c. Windcrest Plain Greek Yogurt (or heavy cream if you're feeling really decadent)
1/2 c. Marcoot Cave-aged cheese such as Tomme, Gouda or Heritage, plus extra for serving
Preparation
Heat the olive oil in a large cast-iron skillet over medium-high heat. Add ground beef or bison and cook, breaking up the meat with the back of a wooden spoon, until it has started to brown, about 7 minutes. Stir in the garlic, oregano, and red pepper flakes and cook for another minute. Pour 1 cup of the wine into the skillet and stir to deglaze the pan, scraping up all the browned bits. Stir in the tomatoes, tapenade, 1 tablespoon salt, and 1 1/2 teaspoons pepper. Bring to a boil, lower the heat, and simmer for 10 minutes.
Finish the sauce by adding the nutmeg, basil, yogurt, and remaining 1/4 cup wine to the pan. Simmer for 8 to 10 minutes, stirring occasionally until thickened.
Meanwhile, bring a large pot of water to a boil, add a tablespoon of salt, a splash of oil if you like, then and the pasta. Cook about 5 finutes and begin testing for doneness. 
When the pasta is cooked al dente, drain, add the sauce and cheese and toss well. Serve hot with extra cheese on the side.