Polenta with Tomatoes and Mushrooms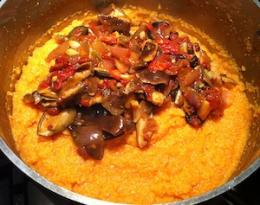 Simply delicious and satisfying. This is a versatile dish that you can mix and match to include whatever ingredients you have on hand.
Preparation
Ingredients
1.3 c. cornmeal
1 qt. Girod/Hilty tomatoes, drained and liquid reserved into measuring cup
2 medium onions (I had red on hand)
3-4 cloves garlic
2 bags shiitake mushrooms (~1lb.), destemmed and sliced
1/2-1c. grated hard cheese, to taste
dried red jalapeno flakes
2T. olive oil
Use 'em if you've got them non-Fair Shares ingredients
2T. Capers (or use sea salt to taste)
8 large black olives, sliced
splash of white wine, sherry or marsala
Preparation
Drain the tomatoes into a sieve over a large measuring cup or bowl, getting most of the juice out. While they are draining, chop the onions and saute over medium heat in olive oil until they begin to brown and caramelize. Add the tomatoes and garlic and continue cooking, stirring occasionally.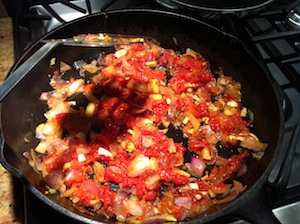 Meanwhile measure the reserved tomato juice and add water to make up four cups. Bring to a boil in a medium-large saucepan. Whisk in the cornmeal in a slow stream, and continue to whisk. Turn the heat to low and continue to cook, stirring often, until it has thickened and softened, about 20 minutes.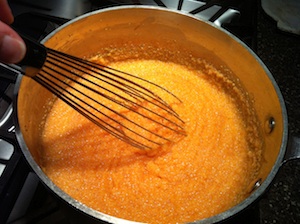 After about 10 minutes of cooking the tomatoes, add the mushrooms, and capers and olives (and any other ingredients you wish). Cook until the mushrooms have released their juices and the mixture concentrates a bit. Add the splash of cooking wine and cook to absorb. Add red pepper and salt and pepper to taste.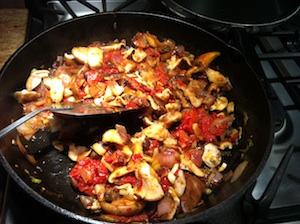 Mix 3/4 of the tomato mushroom mixture into the polenta and stir in the grated cheese. Check for seasoning and add salt, black pepper and red pepper as needed. Spoon onto plates or into bowls and top with a dollop of remaining tomatoes, and a sprinkle of freshly grated cheese.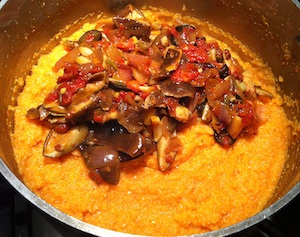 Serve with a salad for a perfect meal.