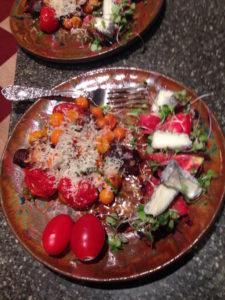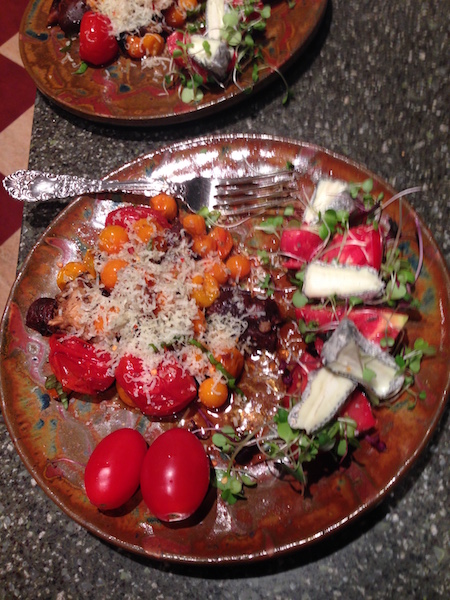 Can you believe we're still getting delicious ripe tomatoes in the shares–and in pretty good abundance, even? With slicers, heirlooms and a variety of cherry tomatoes as well, I just had to have tomatoes in every dish. There was nothing complicated or fussy going on here, just honest to goodness tomato deliciousness.
Preparation
When tomatoes first show up, there is no way to eat them but raw, preferably with salt and pepper, and maybe a bit of basil. Sometimes eating them like a peach, over the sink with the juice dripping off your elbow is most satisfying. Later in the summer, making a sauce, roast, saute or other preparation is required to get through the season's bounty.
In the pictured meal, we have:
1. Juliettes, raw, as is, no salt or pepper or anything, mostly consumed during the preparation of the other two dishes, but included on the plate for demonstration.
2. Tomato salad. A sliced heirloom with a sprinkling of shoots, some Ludwig Vermillion Blue Cheese, salt and pepper and a drizzle of Date Lady Date Balsamic Vinegar.
3. Broiled tomatoes and mushrooms. Toss sungolds, juliettes and shiitake mushroom caps with olive oil, salt and pepper and splash of balsamic vinegar. Broil until wilted and browning with a little crusty. Then plate and grate over some salty scamorza cheese.
Serve with the good silver and a bit of red or white wine.