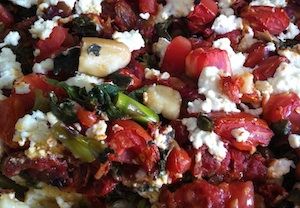 This is a recipe for fresh pasta. This one calls for gnocchi, which we just get frozen, but any short pasta would work well here. This is completely made up, which means you can make up your own version based on what is available. The basic requirements that make this work well are: fresh pasta, veggies, good flavoring (onion, garlic, herbs), something juicy (fresh or canned tomatoes, some broth, etc.), greens (also adds some moisture), and a cheese (you could skip this, but really, why?)
Preparation
Ingredients
olive oil
1 pound frozen gnocchi or short pasta
2 or 3 green onions or green garlic or 1/2 onion, chopped
1 share (~2 c.)  asparagus, broccoli, cabbage or any seasonal vegetable, in bite sized pieces 
1 bag shiitake mushrooms, stems removed, rinsed, sliced
1 bunch greens (we used spinach), rinsed, destemmed and torn into bite-sized pieces (don't spin them dry unless you are adding a sauce or broth)
1 container amazing roasted tomatoes, peppers and onions from the freezer, from last year's glut (optional, but really, you must think ahead this year, it is sooo worth it)
2 or 3 fresh or jarred tomatoes, diced
grated or crumbled cheese for topping (we used chevre)
salt and pepper
Preparation
Pre-heat oven to 375F. Pour a generous coating of olive oil in a baking pan. Add gnocchi and toss to coat, making sure the pasta is well oiled so it doesn't stick to the pan. This also allows some of the peices at the ends to brown a bit–yum. Add a light sprinkle of salt and pepper. Layer in each of the other ingredients in the order given.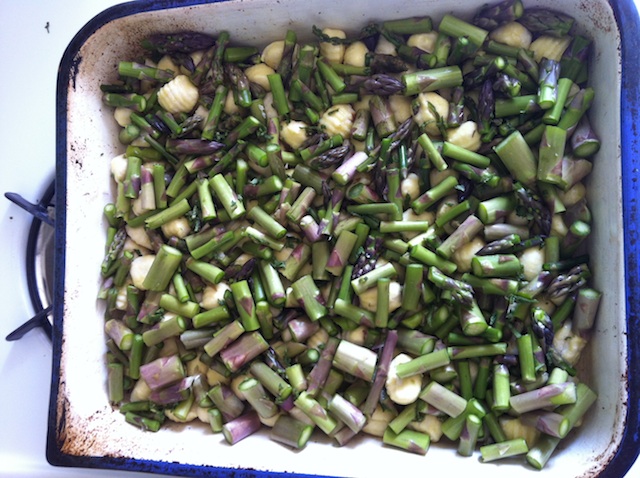 Add a sprinkle of salt and pepper after a layer or two, but don't overdo it-you can always add more on the plate if it needs it.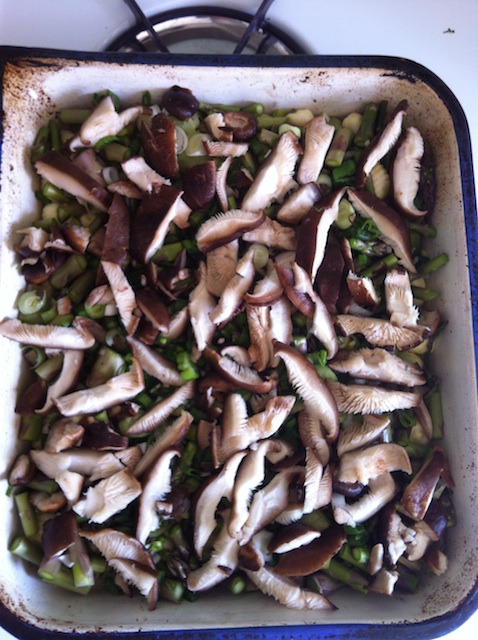 The order of ingredients in the pan is up to you, really, but having the fresh tomatoes (or canned tomatoes, or some broth) on top will help to cook down the greens, allowing the juices to work their way down and cook the pasta.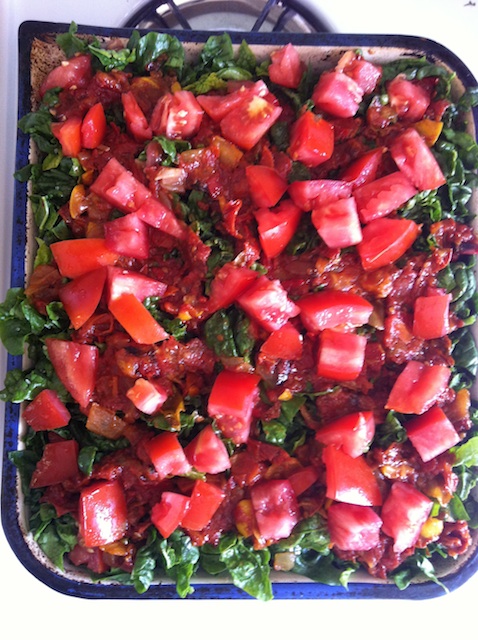 Bake for 45 minutes. This can vary from 30 minutes to an hour, depending on what veggies you're cooking. You basically just want it bubbly and browning.
The ingredients you use will determine how dry or juicy this dish is. Mushrooms create juice, greens like spinach and chard will create more juice than kale, tomatoes create juice, but if you cook it a long time, these juices will cook off. You can add some cooked sausage, bacon or burger meat if you wish, but it doesn't need it.
Serve with salad, or maybe just a second helping.