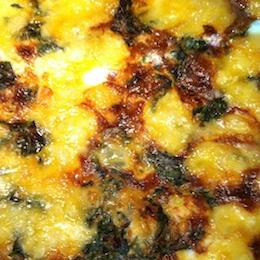 Make a giant casserole of eggs to serve for breakfast, lunch AND dinner. Good cold as a snack, too.
Preparation
Ingredients
 12 whole Eggs
 2-1/2 cups Half And Half (or Milk, if you prefer)
 Salt And Pepper, to taste
 4 Tablespoons Minced Fresh Oregano (or Parsley, Basil, etc.)
 1 loaf Crusty French Or Italian Bread, Cut Into Cubes
 2 pounds Breakfast Sausage Patties, Cooked And Cut Into Cubes
 1 bunch (large) Regular Kale, Torn Into Pieces
 Olive Oil, for frying
 16 ounces, mushrooms, torn into bite-sized pieces
 2-1/2 cups Grated Gouda or Havarti Cheese
Mix together eggs, half-and-half, salt, pepper, and minced oregano. Set aside.
Drizzle olive oil over mushrooms and sprinkle with salt and pepper, then roast in a 425 degree oven for 15 to 20 minutes, or until golden brown. Remove from oven and set aside.
Heat olive oil over medium-high heat, then throw in kale. Cook for 2 minutes, or until slightly wilted. Remove from heat and set aside.
Layer half the bread, half the kale, half the mushrooms, and half the cheese in a large, buttered lasagna pan. Repeat with the other half of all the ingredients, ending with the cheese. Slowly pour egg mixture all over the top.
Cover with plastic wrap and refrigerate overnight if possible.
To bake, remove from fridge 20-30 minutes before baking. Replace plastic wrap with foil and bake in a 350 degree oven for 30 to 40 minutes. Remove foil and continue baking until top is golden brown and slightly crisp.