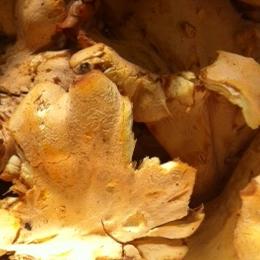 Chanterelles are definitely something to get excited about. Read about them in the following excerpt from Wikipedia, and then experiment for yourself with some of the ideas we give below.
Preparation
From Wikipedia:
Chanterelles as a group are generally described as being rich in flavor, with a distinctive taste and aroma difficult to characterize. Some species have a fruity odor, others a more woody, earthy fragrance, and still others can even be considered spicy. The golden chanterelle is perhaps the most sought-after and flavorful chanterelle, and many chefs consider it on the same short list of gourmet fungi as truffles and morels. It therefore tends to command a high price in both restaurants and specialty stores.[12]
There are many ways to cook chanterelles. Most of the flavorful compounds in chanterelles are fat-soluble, making them good mushrooms to sauté in butter, oil or cream. They also contain smaller amounts of water- and alcohol-soluble flavorings, which lend the mushrooms well to recipes involving wine or other cooking alcohols. Many popular methods of cooking chanterelles include them in sautés, soufflés, cream sauces, and soups. They are not typically eaten raw, as their rich and complex flavor is best released when cooked.[4]
So, does it sound like sauteeing them in butter, and then adding a splash of sherry or marsala would be good? Perhaps a dollop of mascarpone cheese, quark or heavy cream to make it uber decadent and delicious? Yeah, that sounds alright.
In the name of science, I will be cooking a dish of chanterelles, sauteed with onions in olive oil, tossed with fresh basil and pasta that is cooked al dente. This will be sprinkled with freshly grated Marcoot Cave-aged Tomme, cracked pepper and sea salt. Maybe you should try a little science experiment too.