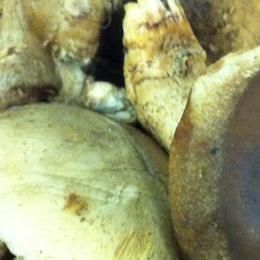 Adapted from Ozark Forest Mushroom's newsletter–if it's any bit as good as Nicola's Tomato Tapenade or Pesto, this should prove to be a winner.
A great spin on a classic holiday dish!
Preparation
Serves 6-8 as a side dish
 
Ingredients
1 share fresh mushrooms
1 medium onion, chopped
2 sticks celery, chopped
2 oz. butter
1 Tbsp. parsley/sage, chopped
Salt and pepper
8 oz. fresh white bread croutons
2 beaten eggs
1 cup of chicken or vegetable broth
 
Directions
Lightly saute the onion, celery, and mushrooms in the butter for 2-3 minutes, until softened. Turn off heat and add herbs, seasoning, and bread croutons and bind together with beaten egg. Add broth until stuffing is moist, but not soggy. (Optional, add 1/4 cup walnuts and 1/4 cup dried fruit.) Grease a dish and bake at 350F for 35-45 minutes.
Happy Thanksgiving!