Baked Trout with Smoked Gouda Mushroom Asaragus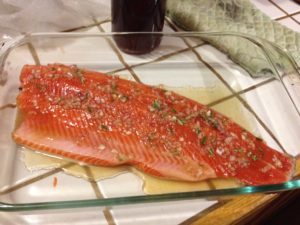 Trout prepared simply and served simply with fresh tomato wedges and a sauté of fresh asparagus and mushrooms topped with smoked gouda is a delightful, light and satisfying Spring meal.
Preparation
Ingredients
1 package trout, rinsed and patted dry
olive oil
salt and pepper to taste
fresh herbs or your favorite seasoning (fresh thyme, chives, garlic, fenugreek, red chili pepper, e.g.)
1 large tomato
balsamic vinegar
salt and pepper
1 bunch asparagus, cut into 1 inch pieces
1 bag Ozark Forest mushrooms, cleaned, shiitake stems removed, and torn into bite-sized pieces
2-4 oz. Marcoot smoked gouda
splash of white wine or sherry (about 1/4c.)
2 cloves garlic, chopped
olive oil
salt and pepper to taste
Preparation
Prep all your ingredients before beginning to cook. This whole meal comes together pretty quickly.
Trout: Preheat the oven to 400. Sprinkle trout all over with salt and pepper, and any spices (if using fresh herbs, sprinkle over the top once cooked). Place skin-side down in an oiled baking dish and rub a bit of olive oil over the flesh. Bake about 5 to 7 minutes and turn skin side up. Remove skin, if desired. Bake an additional 3-5 minutes or to desired browness or crispiness–don't over cook it and dry it out, though!
Veggie Sauté: Heat a thin layer of olive oil in a large skillet over medium-high heat. When the trout goes in the oven, add the mushrooms, garlic, salt and pepper to the skillet and sauté until the mushrooms release their liquid. Add the asparagus and toss until the mushroom liquid is reabsorbed. Sprinkle the wine or sherry over to deglaze the pan. Cook another minute while you grate the smoked gouda over the whole thing. Turn off heat and cover. Allow this to sit so the cheese will melt while you prepare the plates.
Tomato: Slice into wedges and drizzle a little good balsamic vinegar over. Sprinkle with salt and pepper, and maybe a little garlic powder or fenugreek.
Arrange everything beautifully on a plate, take a photo and then eat it up!