Mashed Potatoes & Sunchokes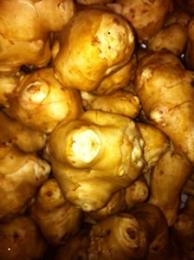 Use sunchokes in similar preparations as potatoes–in soups, root veggie roasts, pan-fried, or boiled and mashed, as in this recipe. Add a little twist to your Thanksgiving table this year.
Preparation
1 pound potatoes, peeled, cut into 1″ cubes
3/4 pound sunchokes, scrubbed, cut into 1″ chunks
6 large garlic cloves, peeled and quartered
1/4 c. or more butter, to taste
1/2 c. milk or yogurt, to taste
salt and white pepper, to taste
dried chili flakes, to taste (optional)
Put the sunchokes, potatoes, and garlic in a large saucepan and cover with salted water.
Bring to a boil, then reduce heat to medium and cook until tender, about 15 to 25 minutes.
Drain (reserving some liquid if you plan to omit the milk), then return them to the pot. Add butter (to taste, but about 2 tablespoons), stir, and mash until it melts completely.
Add the milk (if using) and stir to mix. Season with salt and pepper. Serve hot.
Note: You can make this ahead and place in a table-ready baking dish and reheat in the oven for about 30 minutes at 275F.