Roasted Rosemary Potatoes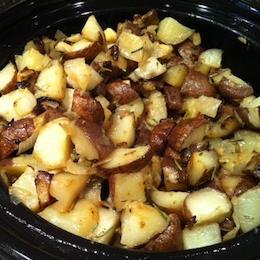 So simple, yet so delicious, and so Sunday dinner.
Preparation
Ingredients
2 lb. Red or Yukon gold potatoes, or a combo, rinsed well and cubed in large chunks
1 large onion, quartered and sliced
3 or 4 cloves of garlic, peeled and roughly chopped
4-6 T. olive oil
sea salt
1 sprig fresh or 1T. dried rosemary


Preparation
Preheat oven to 400F.
Drizzle a little oil in a baking or roasting pan and toss in the potatoes and onions. Sprinkle with salt and the remainder of the olive oil and toss to coat. Roast for 30 minutes. Stir, add garlic and rosemary and continue to roast for a total of one to one and a half hours, stirring every 20 to 30 minutes until browned and crisp.