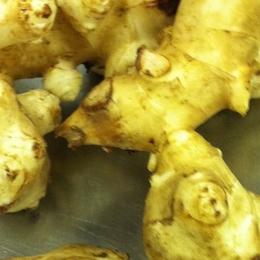 Jeruselem artichokes can be eaten raw or cooked. This recipe produces a crunchier roasted veg, so keep in mind you can leave it in a lot longer, and even cut up potatoes and toss them together, cooking until the potatoes are done to your liking.
Preparation
Scrub them well with a stiff brush under cold running water and there is no need to peel them letting them soak may loosen up some of the dirt, and if they are particularly knobby, breaking them may help access the crevices). Pat them dry with paper towels and slice them about 1/4 inch thick. I sliced them both lengthwise and cross wise just for some variety of appearance. I tossed them with just enough olive oil to coat them and seasoned with salt, pepper and fresh rosemary from our garden. I also peeled some garlic cloves (6 average size) and added it to the mixture. You don't want to drown them in oil, just enough to coat them so they don't stick.
 
Set the oven to 425 and roast them until tender when poked with a fork, about 15 min or so. Fresh and hot out of the oven toss them with freshly grated parmesan (or cave aged tomme) cheese.
 
A very tasty roasted side dish!