Celery Root Mashed Potatoes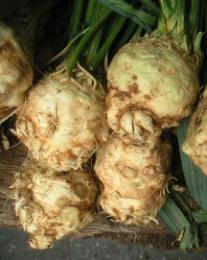 Use celery root in similar preparations as potatoes–in soups, root veggie roasts, pan-fried, or boiled and mashed, as in this recipe. If the stalks are attached, freeze them in a zip-lock (along with the cleaned peels) to add to stocks.
Preparation
Recipe from Farmfreshmarkets.org
1 pound celery root, peeled, cut into 1″ cubes
3/4 pound potatoes, peeled, cut into 1″ cubes
6 large garlic cloves, peeled and quartered
1/4 teaspoon ground nutmeg, or a couple of
gratings of fresh nutmeg
unsalted butter, to taste
2% or whole milk, to taste, optional
salt, to taste
white pepper, to taste
Put the celery root, potatoes, and garlic in a large saucepan and cover with salted water.
Bring to a boil, then reduce heat to medium and cook until tender, about 15 to 25 minutes.
Drain (reserving some liquid if you plan to omit the milk), then return the potatoes to the pot. Add nutmeg and butter (to taste, but about 2 tablespoons), stir, and mash until it melts completely.
Add the milk (if using) and stir to mix. Season with salt and pepper. Serve hot.
This material was prepared by Fair Shares Member and Registered Dietitian Amy Knoblock-Hahn