Making Ravioli with Mangia's Pasta Sheets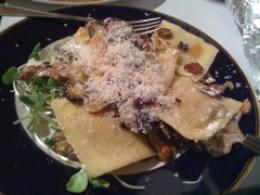 Knock everyone's socks off with homemade ravioli!
Preparation
1. Lay out sheets and place 10 scoops of approximately a tablespoon each of filling, evenly spaced as shown. If they're too big and too close, it will be a big mess.
2. Using a pastry brush (or your finger), brush a line of water along the edges and in between each scoop of filling.
3. Cover with another sheet (six sheets per pound, so it will make 30 ravioli).
4. Use a fork to press the two sheets together to seal all the way around the edges.
5. Use a sharp knife to cut the sheet between each mound, making ten ravioli. If necessary, lightly press the top sheet onto the bottom to see where your mounds are.
6. Seal the other edges with the fork. If the filling is squishing out, pick it up and squeeze the edges together, pressing the filling back towards the center. Continue sealing with the fork until all raviolis are sealed.
7. Slide into boiling water and cook until the ravioli float to the top of the pot. They will be al dente at this point. Cook a few seconds longer for softer pasta. Carefully remove with slotted spoon and add to brown butter sauce. Toss to coat and serve immediately, topped with grated Methuselah or parm.
Other filling ideas: sauteed mushrooms with garlic and goat cheese in a pesto olive oil sauce; sweet potato and apple puree with pecans and a touch of maple syrup in a sauce of sauteed mushrooms with Blue Heron's apple syrup; pea shoot pesto and ricotta with homemade tomato sauce; black beans with sauteed mushroom and chipotle with a sauce of butter, garlic, cumin, and chevre. Oh, and add bacon to any of them to send it over the edge!
Don't want to make ravioli? How about Lasagna! Mmmm.