Pasta and Ravioli "Lasagne"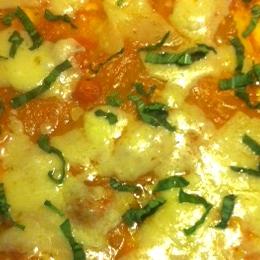 This is the lazy way to make lasagne, which is to say, it's pretty much the only way I make it!
Preparation
Ingredients
1 lb. short pasta, such as gnocchi or rigatoni
1 lb. ravioli, flavor of your choice (frozen)
1 good size winter squash of your choice (we used a spaghetti squash, 2-3 lb.)
1-2 large cloves garlic
salt and pepper
1/2 lb. ricotta cheese (or Quark)
3-4 c. pasta sauce, such as the Sungold Tomato Sauce
1/2 lb. melting cheese, such as mozzarella or gouda, sliced or grated
hard cheese for grating
fresh sprinkle for garnish
 
Preparation
Preheat oven to 375. Cook winter squash until soft and scoop out the flesh (this can be done ahead). Squeeze a clove or two of garlic in and sprinkle with salt and pepper. Mix well. Put a little oil in the bottom of a deep baking pan. Spread the squash in the bottom and top with the short pasta. Spread or crumble the ricotta or quark over the pasta, along with a thin layer of the sauce. Lay on the frozen ravioli in a single layer, trying to cover the whole layer below. Spread the remainder of the sauce over the top and cover with slices of mozzarella. Bake until brown and bubbly, 45 minutes to an hour. Sprinkle with basil and grated cheese and serve with salad.
The winter squash on the bottom and the the sauce on the top–as well as the ricotta or quark in the middle–give the necessary moisture needed to cook the pasta. Feel free to add in other veggies or meat to make it a complete meal. Delish!