Several members have been talking about doing the Whole 30, which inspired my to do another round of my personal Whole30Minutes, and to look up some recipes to see what it's all about. I found a recipe for Thai Curry Veggie Noodles with Chicken that sounded good, but the similarity of spiralized raw vegetables to actual noodles was going to leave me wanting, so instead I created my own version, called it slaw, and served it with gyro meat in a pita. It was the stuff of fantasies.
Preparation
Here is the actual version, which of course, I didn't really follow, but might try to a little more the next time I make this (which I will, and soon).
https://www.foodnetwork.com/recipes/food-network-kitchen/whole30-thai-cu…
Here's what I did:
Ingredients
Slaw Dressing
1c. coconut milk
Juice of 1 lime and 2 lemons 
1/4c. peanut butter
1T. Thai green curry paste
1t. Thai garlic chili paste
2T. fish sauce (or soy)
Slaw
1 small head Deadon green cabbage, sliced or shredded in long strands
1 medium-small sweet potato, spiralized into thin curls
1 large carrot (preferably a beautiful, colorful gem like the one pictured here), spiralized thin
3 green onions, sliced
2 T. fish sauce or soy sauce (optional)
Chopped peanuts for topping
Gyro
slaw
1 pk gyro meat
Pita loaves
Preparation
Slaw:
Whisk together dressing ingredients. Assemble slaw ingredients except for peanut topping, tossing to mix. Add dressing and toss or stir to incorporate. Let sit at least 15 minutes before serving. Sprinkle peanuts over top to serve. Leftovers may need another squeeze of lime juice, as the produce will absorb a bit of the dressing, but the combination stays crunchy and delicious.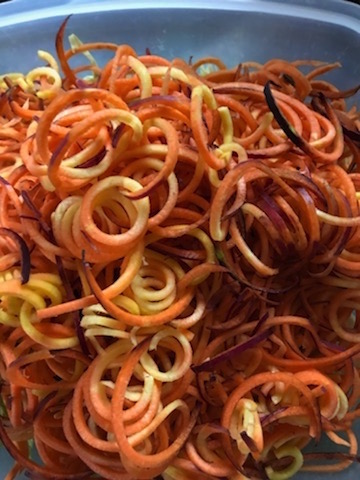 Gyros
Preheat broiler to high with rack approximately 8 inches from flame. Slice gyro meat into 1/2-inch strips and place on broiler pan. Broil until crispy and brown, about 6-8 minutes (? I didn't time it, so I may have made this timing up). Turn slices over and repeat on other side.
While second side is cooking, place pitas on rack or pan at the bottom of the oven, away from the broiler, to warm. Remove meat and set on paper towels. Place half or whole pita on each plate and add a strip or two of gyro meat along the middle of each pita, end to end. Top with slaw, sprinkle with chopped peanuts. Devour.