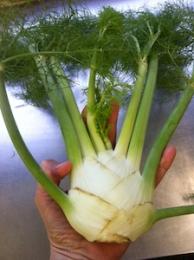 Here is a bright and refreshing salad that showcases fresh fennel perfectly.
Preparation
Prep time: 10 minutes
Yield: Serves 4-6.
Ingredients

1 large fennel bulb (or 2 medium bulbs)
1 1/2 teaspoons sugar (enhances the fennel)
2 Tbsp lemon juice
1/4 cup olive oil
1/2 teaspoon mustard
1/2 teaspoon salt
1 Tbsp chopped fresh mint
2 teaspoons minced green onions (the white part, save the greens for another use)
Method
1. Make the vinaigrette: Put the lemon juice, green onion, mustard, salt, sugar and mint in a blender and pulse briefly to combine. Drizzle in the olive oil until it is well combined.

2. Slice the fennel very thin into 1/8 inch slices starting from the bottom of the bulb. Don't worry about coring the fennel bulb, it's unnecessary. Chop some of the fennel fronds as well to toss in with the salad.

3 Toss fennel into the dressing and marinate for at least an hour. Serve this salad either cold or at room temperature.