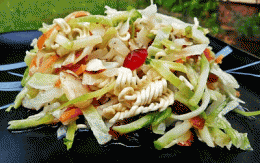 This was a very popular recipe back in the 90's, and like bad fashion, sometimes food trends make a comeback. This is one that actually deserves a spot in the permanent cookbook, in my opinion.
Preparation
1 (3 ounce) package ramen noodles (toss that nasty MSG-laden flavoring packet. That is not food!). I like them coarsely broken. If they're crushed to smithereens, you have to add another package so there are some nice big hunks o' crunchy noodles in the salad.

1/2 cup sunflower seeds, toasted
1/2 cup slivered almonds, toasted
1 head napa or green cabbage, shredded
6 green onions, chopped
1/4 cup olive oil
1/4 cup rice wine vinegar
1 tablespoon soy sauce
1 tablespoon sesame oil
2 tablespoons sugar or honey
Mix the first five ingredients in a big bowl. I often add whatever other veggies are in season, so make it your own.
Prepare the dressing by whisking together the oil, rice vinegar, soy sauce, sesame oil and sugar, honey (yes, I just called you honey). Pour over salad, toss and serve.              
Photo credit (not the recipe): http://www.kaceyskitchen.com/2010/05/asian-cabbage-slaw.html