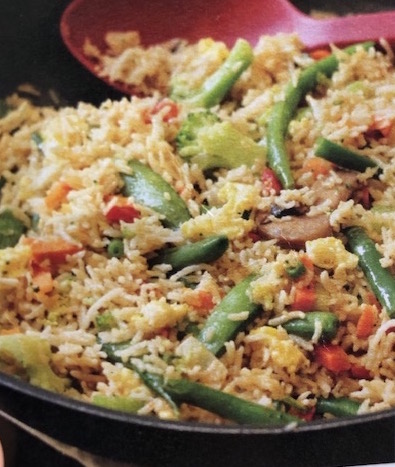 Operation Food Search created this dish at a recent event for the Fruit & Vegetable Presciption shares at the Care StL clinic. It's a pretty simple recipe that's easy to adapt to whatever fresh produce is in season, and especially good when created with our local ingredients.
Ingredients
4T cooking oil or 3T. cooking oil and 1T sesame oil
2 eggs, beaten
1 bu. green onions, roughly chopped
2-3c. chopped vegetables in season or from the freezer 
4C cold cooked brown rice
4T soy sauce (we highly receommend the Ozark Forest Shiitake soy
4T water
Salt and pepper to taste
Directions:
1. In a large non-stick skillet, heat one T. oil ove medium-high heat.
2. Saute vegetables 5 to 7 minutes until beginning to soften. Remove from skillet.
3. Heat 1 T. oil, then add the eggs and green onions and scramble until cooked through and lightly browned.
4. Stir in vegetable, rice and remaining oil. Increase heat slightly and cook until rice is crispy, about 5 minutes.
5. In a small bowl, combine the soy and water. Pour over the rice. Continue cooking, stirring occasionally until the rice has absorbed all the liquid, another 3 to 5 minutes.
6. Season with salt and pepper and serve.
Nutrition Info:

6 servings at 1c. each, 274 calories, 12g fat, 6 g protein, 36g carbohydrate, 4g fiber
You can toss in some leftover meat or nuts to boost the protein and make a one dish meal.