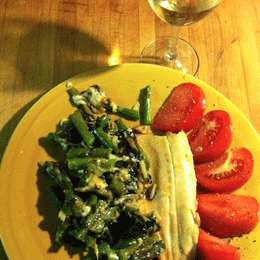 Simply Delicious. Like Italian food, this meal was simply prepared and really yummy, but it wasn't Italian.
Preparation
The Asparagus: roasted in a cast iron skillet in a 400F oven with olive oil, green onions, mushrooms and Marcoot smoked gouda until browned and melty, with the cheese crusting in the bottom. Oh my.
The Trout: roasted in that same 400F oven, sprinkled with olive oil, sesame oil, soy sauce and garlic, and sprinkled with coarse sea salt.
The Tomato: sliced and sprinkled with salt and pepper.