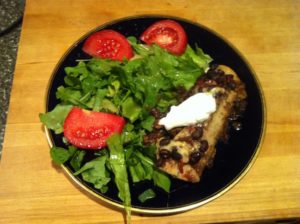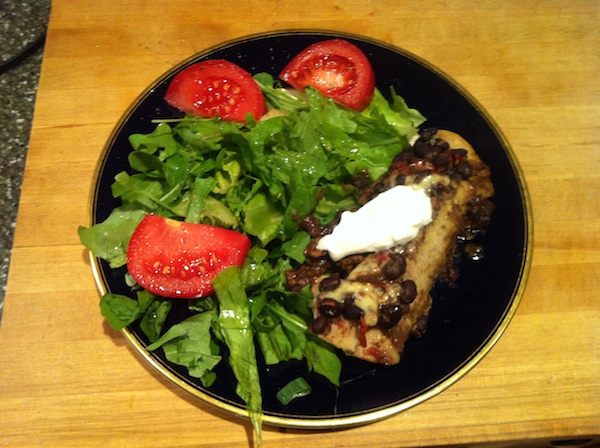 I probably shouldn't call these enchiladas because I didn't follow any recipe or rules for a traditional enchilada, but they look like enchiladas, and they taste delicious and enchilada-ish, and every item in the recipe is from Fair Shares, so we win! I will do this again, and continue to experiment. Make it your own with the ingredients you have on hand.
Preparation
Makes 8 enchiladas (plus a bit of extra filling and sauce for an appetizer plate of nachos!)
Ingredients
1 package La Tortilla Buena tortillas
1 pound ground beef (or chicken or other meat, if you wish)
1 bag shiitake mushrooms, rinsed and sliced or torn
1 small onion or equivalent amount green onion, chopped
2 cloves garlic, minced
1 t. paprika
1 t. cumin powder
1/4-1/2 t. cayenne or hot pepper flakes, or to taste
1T. chili powder
1 pint jar Ivan's salsa (or your favorite), divided
1 tub Del Carmen Beans
salt and ground pepper to taste 
1 package (~8oz.) Marcoot cheddar or gouda or havarti (or any good melty cheese)
Windcrest regular or Greek plain yogurt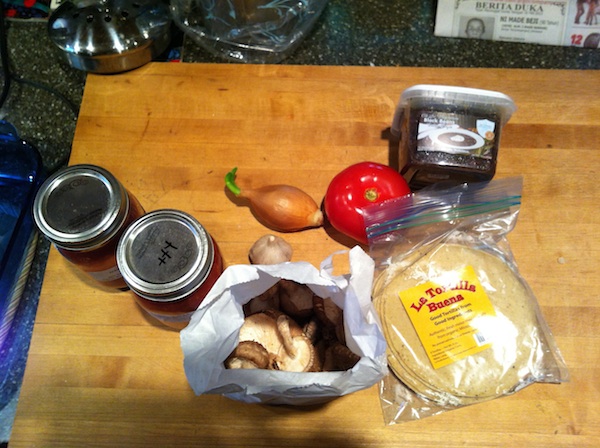 Preparation
Place the ground beef, and chopped onion in a large skillet and brown over medium high heat. Add mushrooms, garlic, paprika, cumin, hot pepper, chili powder and 1/4 jar of salsa. Cook about 15 minutes, or until mushrooms are done.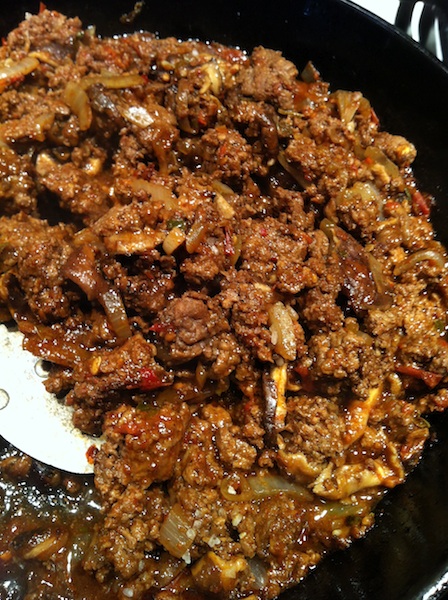 Preheat oven to 350F. Slice 8 long pieces of cheese for the inside of each enchilada and set aside, then grate more for the top of the enchiladas.
In a 8×12 baking dish, spoon about 1/4 tub of the black beans and a couple large spoonfuls of salsa into the bottom and mix and spread to cover. (See how NOT enchilada sauce this is?)
Set up your workspace so everything is close at hand. In another skillet over highish heat, add a dot of olive oil and fry the tortillas one at a time, about ten seconds on each side. Remove and place in your baking pan. Work quickly here, so that you can add a spoonful of filling, a long slice of cheese, and roll the tortilla, placing it seam side down in the pan in time to get the next tortilla out of the skillet.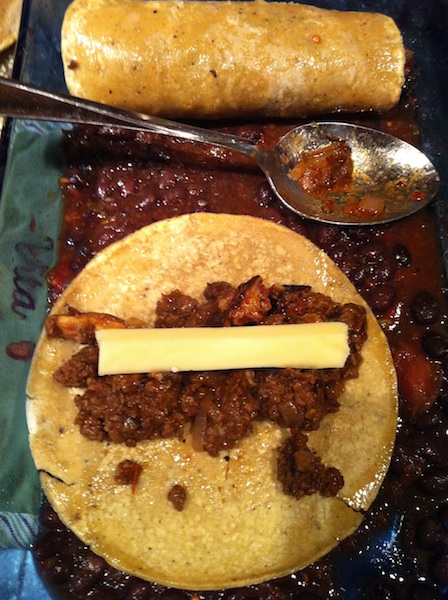 Add more oil for frying the tortillas if needed, and get the next one going before you fill and roll the second tortilla. Continue until all tortillas are done and your baking dish is full.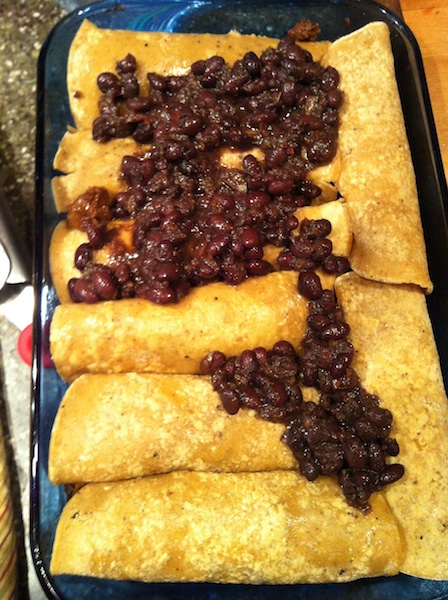 Add the remainder of your enchilada sauce–the beans and salsa–over the top.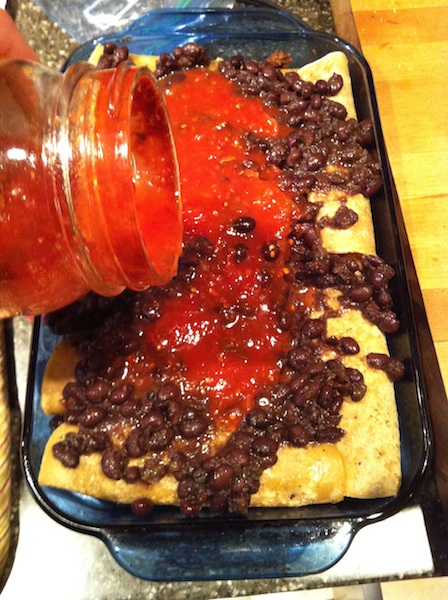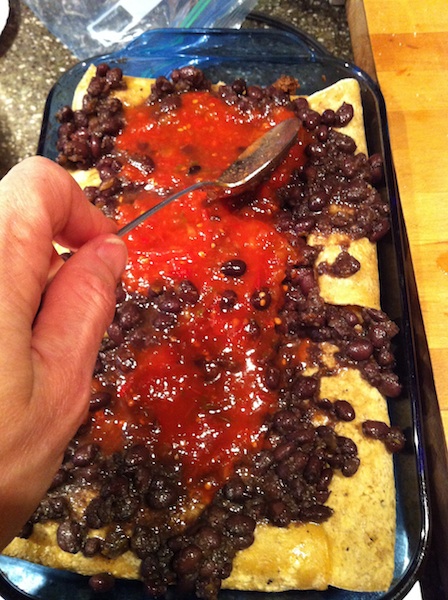 Spread with a spoon to mix and cover the tortillas in the pan.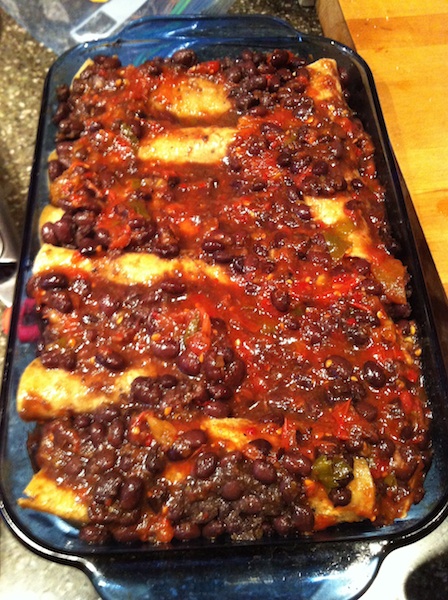 Top with grated cheese and bake for 20-30 minutes, until melty and bubbly.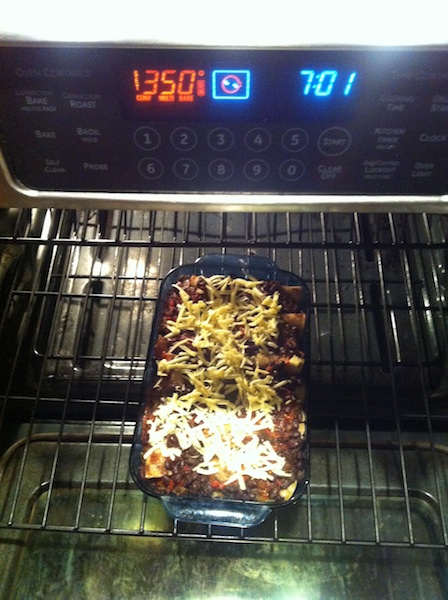 If there is extra filling and beans and salsa, this can be your appetizer with tortilla chips while your enchiladas bake. Don't overdo it–you want to save room for the deliciousness to come!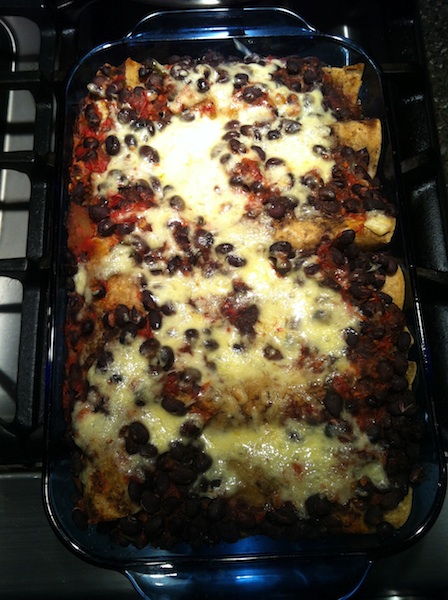 Mmm. Plate and top with a dollop of yogurt. Serve with a yummy green salad.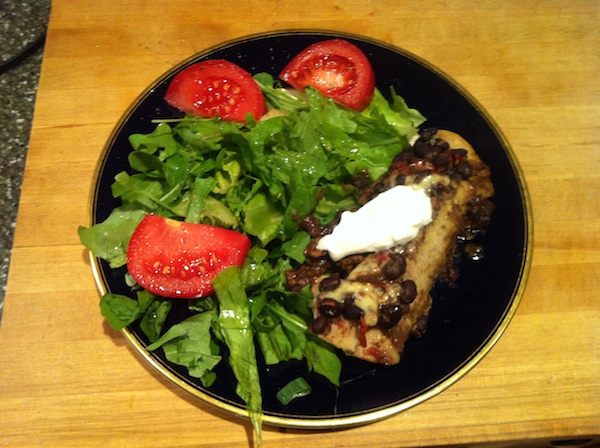 Reheat leftovers in the toaster oven. So good.