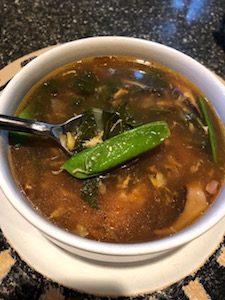 What do you do when you've accidentally put nearly a cup of vinegar in your enormous crockpot of chicken broth?
When life gives you vinegar-chicken broth, you make hot and sour soup. If you happen to have a CSA with a newsletter that needs weekly recipes, you document each step so that you can create a fabulous recipe for your members.
Well, two outta three ain't bad, right? I have the vinegary broth, and I have the CSA newsletter, but I am the absolute worst at remembering ahead of the fact to document my cooking, and I can't follow a recipe to save my life, so I have to rely on my cornball wit and good looks. If I weren't an owner of the business, I would surely be fired by now (and merrily working as a bagger at a happy-food grocery store).
So I'm including *my adaptations, noted with an asterisk, on the recipe below from GimmeSomeOven.com, but the results are 100% irreproducable, so I suggest following that one for real if you want an actual tried and tested recipe rather than my vague guesstimates and substitutions.
I've said it before and I'll say it again: I. Am. A Lazy. Cook. Luckily, I have enough experience under my belt to be able to make it up as I go along, and I encourage you all to strive for that sort of freedom and ease in the kitchen. It's incredibly empowering to remove all fear from your cooking. although I'm sure some would say there is a fine line between bravery and stupidity.
8 cups *chicken stock (or vegetable stock)
8 ounces shiitake mushrooms, rinsed, destemmed and sliced thinly
*1/2lb. bok choy, rinsed and thinly sliced cross-wise
*Snow peas or snap peas (I added a handful of snow peas, strings pulled, and wished I'd sliced them in half
1/4 cup rice vinegar, or more to taste *(I think I put 1/2c. or more white vinegar in while making the broth–don't ask)
1/4 cup *Ozark Forest Shiitake Soy Sauce
2 teaspoons ground ginger
1 teaspoon chili garlic sauce *(I used a tablespoon of my Thai garlic chili oil/paste)
1/4 cup cornstarch *I only used about 2T., so it wasn't as thick)
2 large eggs, whisked
8 ounces firm tofu, cut into 1/2-inch cubes *(I used cooked chicken from making my broth)
4 green onions (scallions), thinly sliced *(I used one of the spring onions with the big bulb)
1 teaspoon toasted sesame oil *or more to taste
*Pinch of white pepper
PREPARATION:
I highly recommend you go to the GimmeSomeOven.com recipe for her directions, but here's what I did:
1. Heat the chicken broth in a soup pot, reserving 1/2c. for whisking with the cornstarch to add later.
2. Saute the sliced mushrooms and the white part of the onion in a little olive oil, reserving the greens for addition late and garnish. Note, if you're just using scallions, you won't need to saute them, just save half for garnish. The "real" recipe doesn't call for sauteing any of the ingredients, but I wasn't looking at the recipe when I made this soup, so this is how I did it.
3. While the mushrooms and onions cook, prep the bok choy. As a side note, this bok choy appeared to be within an inch of its life, wilted and sad. I sliced off the ends and put them in a bowl of water and va-va-vaoom, full recovery!
Slice thinly from ends to leaves. You may want to slice the tops of the leaves in half so the ribbons aren't so long, unless you like that kind of challenge with hot soup.
4. Add mushrooms, onions peas and bok choy to the pot of broth, along with the soy, ginger, garlic chili paste, and pepper–also the vinegar, which I already have in my broth. Whisk your two eggs together in a measuring cup you can pour from.
5. Swirl the soup while drizzling in the eggs.
Weeee!
6. Add sesame oil and taste. At this point, you may want to serve it and let each person adjust their own bowl. Need more sour? Add a dash of vinegar. Need more salt? Add soy. Need more spice? Add a wee bit of garlic chili oil, or maybe a pinch of ginger. Need more sesame? Add another few drops of the sesame oil. Enjoy!