Georgie Girl and Yogurt Dip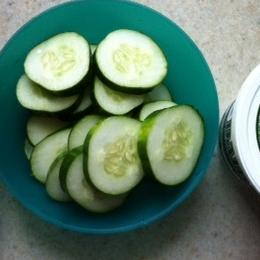 It's the simple things in life that often make the biggest impression. This may not really be one of those examples, but it is simple, and it's quite a tasty snack, or salad.
Preparation
I love a recipe that doesn't even have a list of ingredients.
Mix equal parts Georgie Girl Relish with plain yogurt (regular or Greek, per your preference). Adjust to your liking. Slice cucumber (also carrots, kohlrabi and zucchini) to use as chips for your dip, or blow the diet and use tortilla chips or potato chips. For a nice light salad, chop the cucumber and add it to the mix. Fresh tomatoes would not be unwelcome here, but those tortilla or potato chips might be.