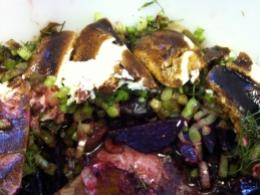 Beets and fennel compliment each other nicely, and the addition of fresh mozzarella or chevre and balsamic vinaigrette add the texture and tartness that pulls it all together for a salad that is both earthy and refreshing.
Other additions to consider: chopped cucumber, fresh-shucked corn, chopped sweet bell peppers, chopped roasted hot peppers.
Preparation
Beet and Fennel Salad
This is a variation on a recipe from Better Homes and Gardens.
Balsamic Vinaigrette

1 lb. beets

salt

 and freshly

 ground black pepper

2 

medium fennel bulbs, cored and very thinly sliced

lettuce

1/4

 cup chopped pecans, toasted

4 

ounces sliced fresh mozzarella (or crumbled chevre)

2 

tablespoons chopped fresh chives
Directions
1. Preheat oven to 400 degrees F. Prepare Lemon Vinaigrette; cover and set aside.
2. Scrub beets. Wrap each beet in foil and place on a baking sheet. Bake 1-1/2 hours or until a knife can be easily inserted into beets. Cool 20 minutes or until able to handle. Trim off stem and root ends of roasted beets. Peel and cut into 1-inch pieces.
Alternate cooking option: boil beets in hot water until easily pierced with a knife. Cool and rub off the skin.
3. In a medium bowl, toss beets with a sprinkle of salt & pepper and 3 tablespoons of the vinaigrette.
4. In another medium bowl toss fennel with a sprinkle of salt & pepper and 3 tablespoons of the vinaigrette.
5. Line plates with lettuce and drizzle with remaining vinaigrette. Layer with beets, pecans, fennel, cheese, and chives.
Balsamic Vinaigrette
3 

tablespoons balsamic vinegar (or lemon juice)

1 

tablespoon finely chopped shallot

1 1/2

 teaspoons Dijon-style mustard

1/2

 teaspoon honey

1/4

 cup olive oil
In a medium bowl whisk together lemon juice, shallot, mustard and honey. Slowly whisk in olive oil.