Cucumber and Wheat Berry Soup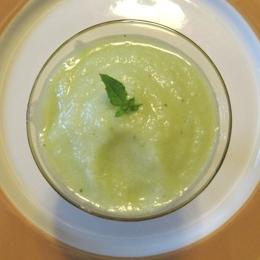 A cool soup for summer, adapted from a recipe in the StL Post dispatch last week. We have all the ingredients to make this a perfectly local dish. I admit I haven't made the soup, so the photo is from the Cucumber Avocado Soup recipe.
Preparation
Yield: 6 servings
1 cup Missouri Grain Project wheat berries
3 cups water
Salt
1 pound small cucumbers
4 cups Windcrest plain or Greek plain yogurt
2 cloves garlic, minced
2 to 3 tablespoons finely diced, seeded jalapeno pepper
1/3 cup finely diced red onion
1 tablespoon chopped mint, divided
1 to 1 1/2 cups Ozark Mountain milk
1/2 cup Missouri Northern Pecans, toasted and chopped
1. Cook the wheat berries: Boil the water and 1/2 teaspoon salt. Add the wheat berries and simmer until tender, about 40 minutes to an hour. Drain and cool to room temperature.
2. Cut the cucumbers in half lengthwise and scrape the center with a spoon to remove the seeds. Grate the cucumber into a large bowl and add the garlic, jalapeno, red onion, and 2 teaspoons mint. Add the yogurt and cooked wheat berries, season aggressively with salt, and chill for a couple of hours.
3. To serve, add just enough milk to thin to the consistency of heavy cream (the cucumber will release some liquid, and the barley will absorb some, so the amount might vary). Add more salt to taste. Divide the soup among 6 chilled soup bowls. Top with the remaining 1 teaspoon mint, 2 teaspoons dill, a sprinkling of chopped pecans.