Cool Summer Vegetable Topping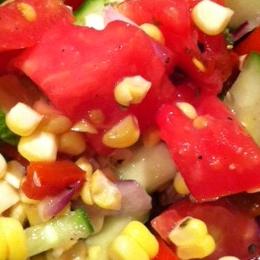 This easy do-ahead topping can be spooned onto grilled bread slices or crostini crackers, served as a salsa, or tossed into cooled pasta, wheat berries, or rice for a summer salad. (I added corn, which the recipe does not call for, but when it's in season, you do what you gotta do).
Preparation
Ingredients
1 small red onion, diced
1/2 cucumber, peeled and diced
2 ripe tomatoes, peeled and diced
1 tsp. sea salt
1/2 tsp. fresh oregano
1/4 cup flat-leaf parsley, finely chopped
1/4 cup basil, finely shredded
1/8 tsp. red pepper flakes
1 1/2 T. olive oil
salt and pepper to taste
Dice onion and cucumber, set in large bowl. Bring a pot of water to boil, drop in the tomatoes for 30 seconds, remove into a bowl of cold water. Slide off skins. Seed and dice the tomatoes, add to bowl. Sprinkle with the salt and leave for 2 hours. Drain any liquid from the vegetables, and stir in the herbs and red pepper flakes. Toss with olive oil and season with salt and pepper.
For brushetta, toast 6, 1/2 inch thick slices of bread, rub each slice with a crushed garlic clove, then divide topping on bread. Let stand for 30 minutes or more before serving.
For pasta, cook 1/2 pound of pasta al dente, drain and rinse with cold water. Once cooled, toss with vegetable topping in a large bowl. Drizzle with additional olive oil if needed. If desired, add diced green peppers, sliced black olives, artichoke hearts, grated cheese, or any additional salad favorites.