Chocolate Peppermint Thumbprint Cookies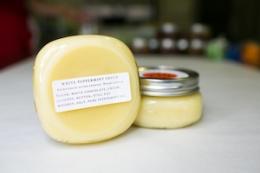 Nothing says I Love You like freshly baked cookies. Especially if you bring one to me. I love you, too! These cookies will be doubly lovable because they include White Chocolate Peppermint Dessert Sauce from Bittersweet Artisan Truffles.
Preparation
Recipe courtesy of Audrey Scherrer, Bittersweet Artisan Truffles
Makes 24 cookies
4 oz bittersweet chocolate, chopped
1 ½ cup all-purpose flour
½ cup cocoa powder
¾ tsp. salt
1 cup unsalted butter, room temperature
1/3 cup sugar, plus extra for rolling cookies
2 tbsp. brown sugar
2 large eggs
1 tsp. vanilla extract
½ tsp. peppermint extract
¾ cup Bittersweet White Chocolate Peppermint Sauce, slightly warmed
Preheat oven to 350°F.  Line 2 sheet pans with parchment paper.  Melt chocolate in a double-boiler.  Stir until smooth, then cool slightly.
Sift together flour, cocoa, and salt in a medium bowl.  In the bowl of a stand mixer fitted with the paddle attachment, beat butter and sugars on medium speed until light and fluffy.  Add eggs one at a time, mixing after each addition, followed by the extracts.
Add the melted chocolate and mix until combined.  Add flour mixture in one addition and mix until just combined, being sure the scrape down the sides of the bowl.
Using a spoon or a scooper, roll dough into rounded tablespoons and roll in sugar.  Place on the prepared pan and indent the centers with thumb or a wooden dowel.  Bake 15 minutes, cool on a wire rack.
When cookies are completely cool, fill the indent with a scant teaspoon of White Chocolate Peppermint Sauce.  Let sauce cool to firm up.