Chocolate & Zucchini Absorption Pasta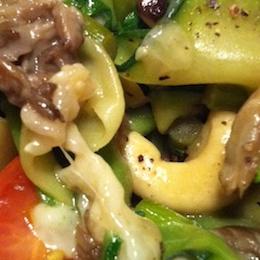 Adapted from chocolateandzucchini.com 

This was tasty and intriguing enough to make me want to try to improve and perfect it. You may want to add mushrooms and tomatoes, or just go minimal to see how the chocolate contributes and how the pasta absorption method works.
Preparation
Ingredients:
4 T virgin olive oil
6 garlic cloves, peeled and minced
1 lb. short pasta, such as cresta rigate
3-6 cups very hot stock (or water)
2 med. zucchini, cut into thin sticks
Salt, freshly ground pepper
2T cacao nibs
Heat the oil in a wide bottomed sauce pan. Add the garlic, and cook for a minute over medium heat, stirring, until fragrant. Add the pasta and toss to coat (the recipe I used said to stir continuously for 2 minutes, but with fresh pasta, it gets a little wierd, so I just moved on quickly). Add stock or water to just about cover the pasta and lower the heat to medium-low. Cover and simmer for ten minutes, stirring occasionally. Five minutes into the cooking, add the zucchini, and sprinkle with salt and pepper.
Taste the pasta for doneness: if it isn't quite done and all the liquids have been absorbed, add a little more stock or water, cover, and cook for a few more minutes before tasting again. Adjust the seasoning. Transfer to plates, sprinkle with cacao nibs and hard grating cheese. Enjoy!