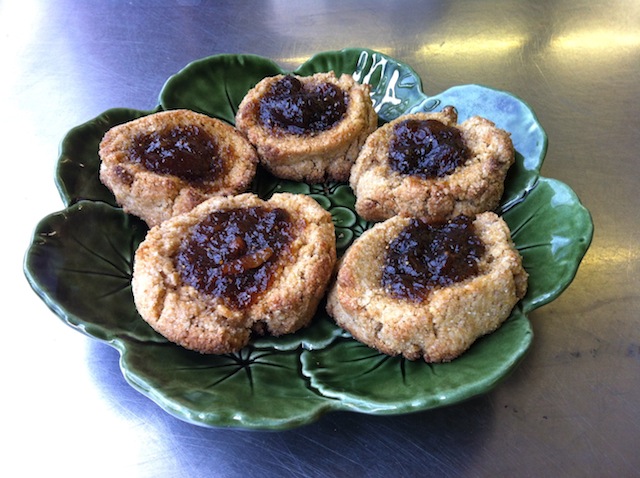 This is a great way to enjoy Ivan's fig jam, or your favorite Hilty jam. The whole wheat flour allows you to pretend they're good for you–and if you eat only one, it will be!
Preparation
Ingredients
·         2 cups whole wheat flour
·         1/2 cup sugar
·         1 1/2 teaspoon baking powder
·         10 1/2 tablespoons salted butter, room temperature
·         1 large egg, room temperature
·         1 large egg yolk, room temperature
·         3 tablespoons (about) raspberry jam or Ivan's Fig Pecan jam

Preheat oven to 400°. Whisk flour, sugar, and baking powder in a large bowl. Add butter; using your fingertips, rub in butter until coarse meal forms. Whisk egg and yolk in a bowl; add to flour mixture; stir just to blend.
Line 2 baking sheets with parchment paper. Measure dough by 2 tablespoonfuls and roll into balls. Place on prepared sheets, spacing 2″ apart. Make an indentation in center of each ball; fill each with 1/2 teaspoon jam.
Bake cookies until golden, 12–14 minutes. Transfer to a wire rack to cool.