Salted Caramel Chocolate Meringue Pie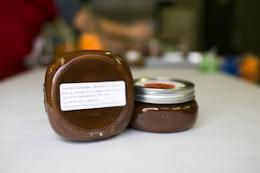 As if one actually needs a suggestion on how to use Bittersweet Artisan Truffle's Salted Caramel Chocolate Sauce (you should at least use a spoon). This recipe sounds so good, it makes me wish I had a birthday coming up. It's such a simple recipe, maybe a special occasion isn't necessary after all! 
Preparation
Recipe courtesy of Audrey Scherrer, Bittersweet Artisan Truffles
1 pre-baked crust
1 cup Bittersweet Salted Caramel Chocolate Sauce
½ cup heavy cream
1 large egg
5 large egg whites, at room temperature
½ tsp. cream of tartar
5 tbsp. superfine sugar
For the pie:
Preheat oven to 350°F.  Warm Salted Caramel Chocolate sauce in a microwave for 20 sec in a medium microwave-safe bowl, stir.  Heat cream over medium heat until it barely simmers and pour over sauce.  Let the mixture rest for 2-3 minutes and whisk together until completely combined.  Let mixture cool to room temperature.  Add one egg and whisk until completely combined.  Pour mixture into the pre-baked pie crust.  Wrap edges of the crust with aluminum foil to prevent burning.  Bake for 25 minutes or until edges are set and the center is slightly bubbly.  Remove foil from the crust.  Cool pie on a wire rack while the merengue is made.
For the meringue:
In a clean bowl of a stand mixer, add the egg whites and the cream of tartar.  Begin whisking the egg whites on medium speed until they become frothy.  Increase speed to high and, while whisking, add the sugar in very small increments.  Continue whisking until shiny, stiff peaks form and sugar is completely dissolved.  Add the meringue to the top of the pie, smoothing across the top to the crust.  Place pie back in the oven for 12-15 minutes, or until merengue is lightly browned.  Cool completely on a wire rack, cover, and store in the refridgerator.