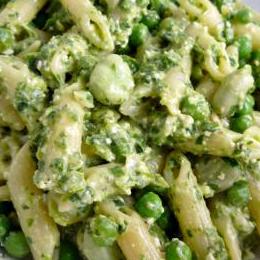 SO easy and a different way to enjoy the spinach. We substituted Marcoot Cave-aged Tomme for the parmesan, but you could use scamorza or any aged grating cheese. It was delicious with fresh pasta.
Preparation
http://southernfood.about.com/od/spinach/r/bl30710o.htm
4 cups washed, torn spinach leaves, stems removed, well packed, 16 to 24 ounces
3 medium garlic cloves, halved
3 tablespoons pine nuts
1/2 teaspoon dried leaf basil, crumbled
1/4 cup extra virgin olive oil
1/3 cup grated fresh Parmesan cheese
1/8 teaspoon kosher salt, or to taste
1 pound spaghetti or other pasta
Place garlic in food processor and process for a few seconds.
Add all remaining ingredients except cheese and salt and process until smooth.
Add the cheese and kosher salt and process until the pesto mixture is smooth.
Toss with pasta or spread over bread or meat.