Carrot Cupcakes with Butterscotch Cream Cheese Frosting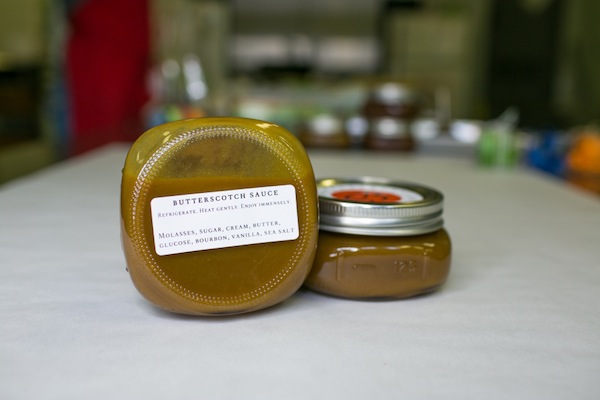 Bittersweet Artisan Truffles has a delectible suggestion for how to use their Bourbon Butterscotch Sauce. This is a great time to test it out while carrots are available. If anyone needs a taste tester, we're here for you. 
Preparation
Makes 12 cupcakes
1 cup whole wheat pastry flour
¾ tsp. baking powder
¾ tsp. baking soda
½ tsp. salt
½ tsp. cinnamon
¾ cup sugar
½ cup vegetable oil
2 large eggs
1 ½ cups finely grated carrots
2 tbsp. bourbon
2 tbsp. sour cream
6 oz cream cheese, room temperature
6 tbsp. butter, room temperature
¾ cup Bittersweet Bourbon Butterscotch Sauce
2 cups powdered sugar
Pinch of salt
Preheat oven to 350°F.  Line 12 1/3 cup muffin cups with paper liners.  Combine first 5 ingredients in a small bowl.  Beat sugar and eggs on medium speed in the bowl of a stand mixer fitted with the paddle attachment.  When sugar and eggs are light and fluffy, drizzle in the oil with mixer on med-low speed until completely incorporated.  In two additions, add dry ingredients, beating until well blended after each addition.  Mix in carrots, bourbon, and sour cream.  Spoon batter into muffin cups, filling ¾ full.  Bake 15-17 minutes, or until a toothpick inserted in the middle comes out clean.  Cool cupcakes on a wire rack.
To make the frosting, beat the cream cheese and butter on medium speed until creamy.  Add the Bourbon Butterscotch sauce and beat until fully incorporated.  Turn mixer to low speed and add powdered sugar in ½ cup additions.  Beat until light and fluffy.  Pipe or spread frosting onto completely cooled cupcakes.