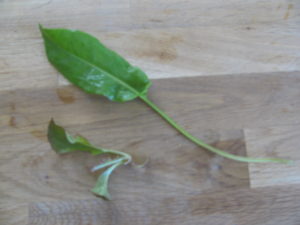 Sourced from Joy of Cooking.
Preparation
Clean, shred from the midrib and chop:
½ cup sorrel leaves
1½ cups leaf lettuce
Sauté them until wilted in 1 to 2 tablespoons butter
When they are sufficiently wilted, there will be only about 3 tablespoons of leaves.
Add:
5 cups poultry or vegetable stock
Simmer about 2 minutes. Remove from the heat and add a small amount of the soup to:
½ cup cream
3 beaten egg yolks
Combine all ingredients and heat until the soup thickens slightly, but do no boil. Makes 5 to 6 cups.