Broiled Tomato with Cheese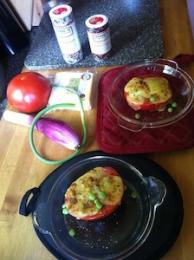 This is fast food at its finest. From concept to fork it took under five minutes, and there was no drive through or underpaid employee involved–I guess you could call it feel-good fast food.
Preparation
Preheat the broiler and slice a tomato in half (all in one smooth move). Place each tomato half on a small baking dish. If you aren't lucky enough to have the perfect shirred egg dishes, perhaps you'll find something sufficient in your cabinet. Chop a wee bit of garlic or garlic scape and the stalk of a scallion or tropea onion and sprinkle them over the top. Shake on some Krazy Janes salt and pepper (the pepper is really good. I've been eating the salt for over 30 years and only just tried the pepper a couple months ago). Add a little heat and other spices if desired and top with a few thick slices of cheese.
Broil until golden and bubbly. Lunch is ready!