Beet Soup in Roasted Acorn Squash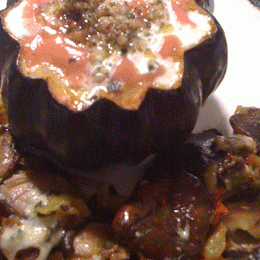 A great winter warmer. It was way too stunning a presentation for a weeknight, but we're worth it. The secret to the stunning presentation is in the toppings.
Preparation
For Squash:
4 small or 2 large squash
olive oil and salt
For soup:
1 sm./med. red onion, chopped
1 T. olive oil
3 med. beets, peeled, cut into 1" pieces
1-2 apples, peeled, cut into 1" pieces
1 or 2 garlic cloves, minced
2 c. chicken or vegetable broth
2 to 3 c. water
1 T. cider vinegar
1/2 T. packed light brown sugar
For Toppings:
Toasted, chopped pecans
Cream, half and half or plain yogurt
Pomona's Ambrosia
Roast squash:
Preheat oven to 375 F. Cut off tops of small squash (about 1 inch from stem end) and reserve. Cut larger squash in half lengthwise. Scoop out seeds. Cut a very thin slice off bottoms of squash to create stable base. Brush "bowls" and tops all over with oil and sprinkle salt inside. Arrange squash bowls, and stems in shallow baking pans and roast until flesh is tender, about 1 hour.
Make soup while squash roasts:
Cook onion in oil in a 3-quart heavy saucepan over moderate heat, until softened. Add beets and apple and cook 5 minutes. Add garlic and cook, 30 seconds. Add broth and 2 cups water. Simmer, uncovered, until beets are tender, about 40 minutes. Stir in vinegar and brown sugar. Purée soup in 2 batches in a blender or use an immesion blender until very smooth, (use caution), transferring to a large bowl. Season with salt and pepper and serve soup in squash bowls. Top with chopped toasted pecans and a drizzle of Blue Heron's Pomona's Ambrosia, a marvelous apple syrup made from concentrated apple cider ($8.25).