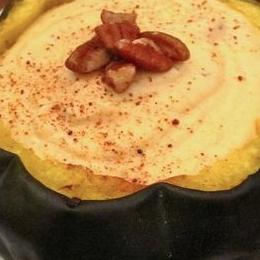 This recipe is from Food52.com, and may be lightened up with milk instead of heavy cream, and Greek yogurt and/or quark cheese of cream cheese, if you prefer.
Preparation
This recipe serves a crowd.

·       1 Medium Acorn Squash
·       3/4 cups Apple Cider
·       6 ounces Cream Cheese
·       1/2 cup Heavy Cream
·       8 ounces Sharp Cheddar
·       1/2 teaspoon Freshly Grated Nutmeg
·       1 tablespoon Unsalted Butter
·       1/8 teaspoon Thyme
·       Dash of Ground Cinnamon
·       Sea Salt to Taste
Preparation
1.     Preheat oven to 350 degrees.
2.     Cut the top off the acorn squash and scoop out the seeds. Shave a small portion of the bottom of the squash off to make it sit flat on the pan. Carefully scoop out the meat of the squash, leaving about 1/2″ thick rim inside. The squash shell will be your serving bowl.
4.     In a saucepan over medium heat, combine the squash and apple cider and cook until soft. You can use an immersion blender if desired. Once broken up, add the heavy cream and cream cheese. Stir constantly until fully melted. Add the grated sharp cheddar, nutmeg and thyme. Continue blending over medium heat until the fondue is complete.
5.     Pour fondue into the acorn squash shell and sprinkle the top with sugared pecans and a dash of nutmeg. Serve with french baguette pieces, dried fruit and anything else you love to dip.