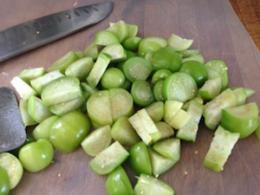 This recipe has a pretty laid back approach, as cooking should. Serve with a good lager or a margarita. 
Preparation
For the Salsa Verde
Cover ~lb. husked, rinsed tomatillos and one jalapeno (stem removed) with water. Bring to a boil and cook until the tomatillos turn a little duller green and become soft, about 15 minutes. Drain the water and blend in a food processor or blender with a garlic clove and little chicken stock to make a sauce. Keep the sauce warm over low heat. Add salt to taste.

For the Filling
Roast Chicken and when cool, remove meat. Cook 1 chopped onion and 2 cloves garlic in saute pan over medium heat. Add 3 cups shredded chicken meat and a little chicken stock and cook until flavors are well mixed.

Assembling the Enchilladas
There several different ways. If you are only making a small amount, lightly fry a corn tortilla in a dry skillet (about 1 min on each side) so that is softens. Add the chicken to the middle and roll it, seam side down on the plate. Repeat for each tortilla. Top with the Salsa Verde, cheese (Havarti, Gouda, Cheddar/Queso Fresco), cilantro and a squeeze of lime. For larger quantity, fill and roll each tortilla and place into a casserole dish. Top the entire dish with the salsa verde and cheese.

Bake at 350 until cheese is melted.