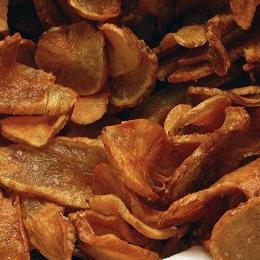 From STLToday.com
You could use just about any root veggie in this recipe–may even a medley. Beets, radishes, carrots, potatoes?
Preparation
8 ounces parsnips, peeled
2 to 3 tablespoons mild olive oil
Coarse sea salt

Preheat the oven to 350 degrees. Line 1 or 2 baking sheets with aluminum foil. Line a plate with paper towels.

Use a vegetable peeler to shave wisps of parsnips into a bowl. Drizzle with oil. Using your hands, toss gently to coat each wisp. Scatter the parsnips on the baking sheets; spread into a single layer. Roast, stirring and checking every few minutes, until evenly and lightly browned and crisp, 8 to 12 minutes.

Transfer the crisps to paper towels, season generously with salt, and serve hot or at room temperature.

PER SERVING: 42 calories; 2g fat (43 percent calories from fat); trace saturated fat; no cholesterol; trace protein; 7g carbohydrate; 2g fiber; 50mg sodium.

Variation: To fry the crisps, heat about 1/2 inch oil until hot but not smoking in a deep skillet or pot over medium heat. Toss a small handful of parsnip wisps into the oil, using your thumb and forefinger to separate each wisp. Do not crowd the pan. Fry, stirring and checking as necessary, until evenly and lightly browned and crisp, 3 to 4 minutes. Repeat with remaining wisps. Drain on paper towels, add salt and serve.