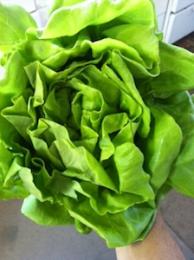 Whenever there is bibb or butterhead lettuce available, I fantasize about lettuce wraps. You can wrap anything in a lettuce leaf, really, just make sure to make it a fun, communal meal in which everyone gets to participate in the assembly of their own wraps.
Preparation
I always substitute whatever is in season from Fair Shares. 
1 cup brown rice
1 pound ground beef or bison
1 tablespoon soy sauce (the Ozark Forest Shiitake Soy is fabulous)
1 teaspoon minced garlic
2 teaspoons minced fresh ginger root
16 large lettuce leaves, rinsed and patted dry
1 cup shredded carrots
1 cup green onions, thinly sliced
1 cup sliced red bell pepper
1 cup sliced radishes
1/3 cup soy sauce 
1/3 cup water
3 tablespoons fresh lemon juice
2 teaspoons minced garlic
1 tablespoon minced fresh ginger root
1 teaspoon sugar
Cook rice according to package directions.
While rice is cooking, brown ground beef or bison in a large skillet. Drain fat. Stir in 1 tablespoon soy sauce, 1 teaspoon minced garlic and 2 teaspoons ginger.   
Arrange rice, lettuce leaves, carrots, green onions, radishes and red peppers onto a serving platter. In a medium bowl, mix together 1/3 cup soy sauce, 1/3 cup water, lemon juice, 2 teaspoons garlic, 1 tablespoon ginger, and sugar. Divide into 4 small dipping bowls.
To eat, place a leaf of lettuce onto the palm of your hand, spoon on a little rice, then a spoonful of the meat mixture, and a few of the vegetables. Roll up and dip in dipping sauce or spoon sauce over wrap.